Breadcrumb trail:
About Your Certification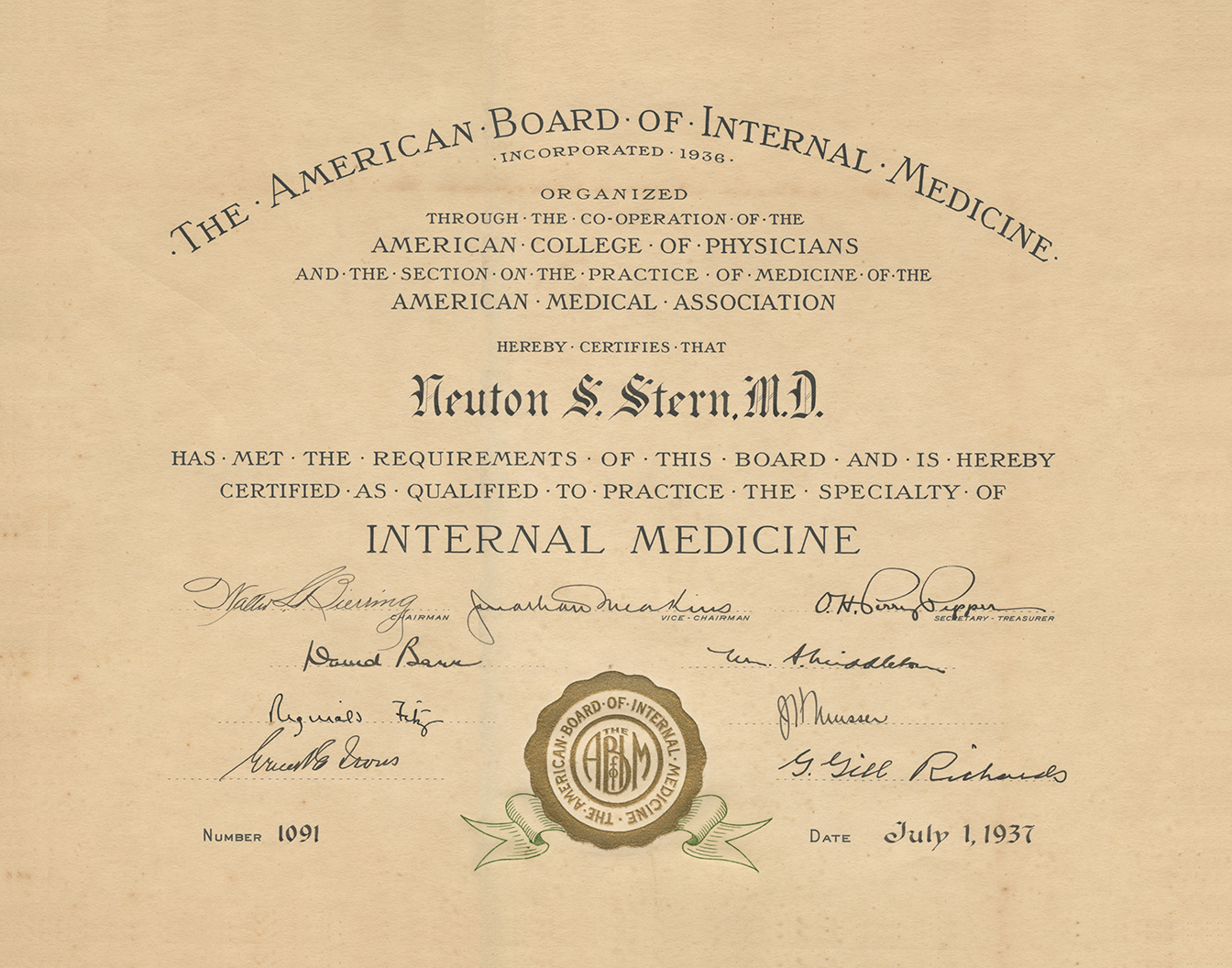 About your ABIM Certificate
In 2019, ABIM unveiled a new certificate design based upon physician feedback. Among the changes is a revision of its size to 10" x 13" so that you can more easily find a frame for display. Your certificate is valid as long as you maintain your certification, so take good care of it!
The Stern Legacy
The certificate you've earned is very similar in design to the one presented to Neuton Stern, MD in 1937. Dr. Stern was one of the first physicians to be certified by ABIM, founded in 1936. Dr. Stern's story is one of hope, adventure and, ultimately, a life dedicated to medicine. In many ways, his story symbolizes all that ABIM and the certificate you are now holding represents.
Born in 1890 in Memphis, Tennessee, Dr. Stern graduated from Harvard Medical School in 1917. Following his internship at Massachusetts General Hospital, he enlisted in the U.S. Army Medical Corps, where he earned the Medal of Honor from the French government for helping prevent an epidemic during World War I. While overseas, he studied cardiology in England with Sir Thomas Lewis, the world's leading cardiologist at the time.
After the war, Dr. Stern returned to Memphis. His career was characterized by his leadership and dedication to medical education. He was Tennessee's first diplomate of the National Board of Medical Examiners. Dr. Stern was a founding member of the American Heart Association and established its Memphis chapter, also serving as the group's president. Author of numerous publications, he wrote four clinical textbooks. He passed on his devotion to medicine to his son and grandson, who both became physicians themselves.
The Stern family's story epitomizes the dedication to service, commitment to lifelong learning and the pursuit of excellence that are the hallmarks of board certified physicians like you. It is that spirit that is embodied in the certificate you have earned. We hope you will display it proudly. Read more about the Stern legacy.